Everything is going wireless these days!
We traveled from wired landline phones to wireless mobile phones. We progressed from wired earphones to wireless headphones. We also advanced from wired USB data transfer to wireless data transfer running on Bluetooth technology.
Everything turned wireless, so why not get rid of the messy cables for charging your mobile device!
The current technology has made our lives easier with wireless phone chargers at our disposal. Let's look at the benefits of using wireless phone chargers and how they can add convenience to your lives if your device is compatible with them.
Benefits of using a wireless charger for your phone
 1. You feel always powered on
 Having a wireless charger allows you to stop worrying about your mobile phone's battery status and life. You can focus on what's really crucial, like that important presentation that you need to create on your mobile on the go, or that movie that you downloaded for relaxation, and charge your phone through the wireless charger as and when you need it.
2. You can enjoy an uninterrupted experience
Assume that you are sitting in a group of friends in a restaurant or a cafe. And you often notice that all your friends carry their mobile phones and these are placed on the table, in front of their eyes. Coz no one wants to miss out on a new text or call.
Wondering what does this tell you?
This says that to enhance the experience of you chatting with friends and meanwhile, your phone gets charged, a wireless phone charger can sit alongside your phone on that very table. Voila!
3. You do not need to fear the charger port getting damaged
Did you ever aggressively unplug your phone from the wired charger cable, damaging the delicate charging port on your phone? Almost all of us did that, and not just once, many times, didn't we?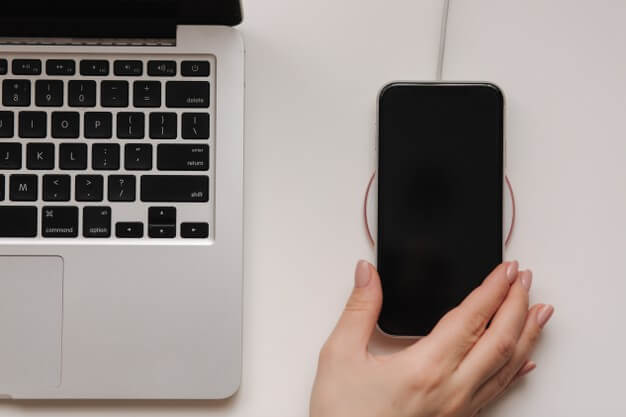 Using wireless phone chargers, this issue is resolved by default. Since you get rid of all the wires, there is no chance of any wear and tear of the charging port due to vigorous use.
4. Your charger can easily blend in with any mobile device
No matter what kind of mobile phone you own, what kind of charging port it has, a wireless charger can accommodate all of them. If your mobile has a smaller charging port, you do not need to rush buying a charger with a compatible cable.
All you need to do is place your phone on a wireless charger and your mobile begins charging. And for your information, a lot of other devices can also be charged through a wireless charger.
5. Your workstation breathes in a clutter-free surrounding
Normal chargers are wired. Apart from those, you often have other connectible devices that have wires, and all of them need to be connected to your laptop/desktop at the same time.
The result? A messy table with wires entangled here and there!
The solution? Choosing a wireless charger and doing away with wires, so as to have an organized and clean workstation, and hence get a feel of an effective workday.
Final verdict
Life has a lot of other things to worry about these days, and worrying about your mobile phone's battery is the last thing you would want to invite. For that, you should definitely consider picking up wireless phone chargers and charge anytime and anywhere you want!
Cadyce boasts of having a profound impact on your lives through cutting-edge technology. As a leading technology accessory manufacturer, it has come up with wireless chargers for modern smartphones. Incorporating the Qi wireless charging technology, the chargers from the house of Cadyce would charge your compatible devices swiftly and safely so that you enjoy a totally wireless experience!